Wedding Entertainment
The perfect addition to your special day!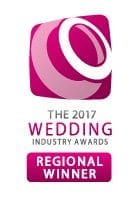 Jamie is a very experienced wedding entertainer, performing at around 50 weddings alone every single year!
He was recently awarded the prestigious title 'Wedding Entertainer of the Year 2017' for the East Midlands Area, and was also Highly Commended on a National level for his work within the wedding industry.
100% Positive Customer Satisfaction
What a
fantastic ice-breaker
during the waiting around!
Easily the best money I spent, and worth every penny!
The Drinks Reception:
Jamie performs for the whole duration of the drinks reception, mixing and mingling with guests – this acts as a perfect ice breaker, as he can bring guests together (that might not already know each other), and leave them with something in common to talk about.
The Wedding Breakfast:
Jamie performs between courses throughout the wedding breakfast, keeping people entertained while they wait for their food to arrive – this is like a 'mini-show' at every single table, involving magic, mind reading and comedy.
The Ultimate Wedding Package
The Ultimate Wedding Package
The Ultimate Wedding Package
The Ultimate Wedding Package:
Jamie performs throughout the whole of the wedding reception and the whole of the wedding breakfast, mixing and mingling with guests (as in package 1 and 2).
Lastly, he performs an extra special something for everybody all at once (usually during the deserts or teas/coffees). What Jamie performs is kept a secret, but we promise it's guaranteed to leave all of your guests speechless and the photographers always get an amazing photograph of this illusion for your wedding album.